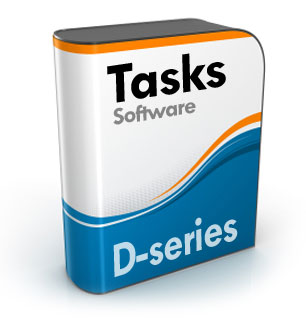 D-Tasks Is a tool for the tracking of tasks and time management of resources. It also provides the option of maintaining a record on the time, costs and assigned resources on any given project or task. The system permits different levels of use, reports and statistical graphics. D-Tasks can be accessed only by a username and a password given by the application administrator or authorized personnel.

Its primary function is to improve communication channels between administrators and to maintain track/records of time management. D-Tasks also provides tools for automatic communication through email and sms. You will have access to view, update, add, move and/or edit any information 24/7. By using D-Task you will be able to:

Administrative:

Create departments and/or work divisions like accounting, human resources, sales, and other.
Assign specific tasks to each department and/or division.
Create a list of personnel and vendors.
Create and assign tasks to available groups or individuals.
Create clients lists
Keep track of expenses by vendors and/or by tasks.
Keep track of the hours assigned to each client, task or department.
Adjust bill of materials by task.
Assign hourly rates to clients and tasks.
Tasks:
Assign tasks by client.
Assign priorities.
Assign tasks by date and time.
Assign comments and notes.
Follow up remaining and completed times and schedules.
Keep history of pending and completed tasks.
Personnel:
Plan the utilization of available resources.
Establish supervision levels.
View and follow up on assigned tasks.
Communicate task status automatically using the system, email or sms.
Keep track of time invested into projects/tasks.
Keep history of assigned tasks and collaboration.
For more information call us at 787-620-5597 or email us at: info@design2net.com